Ambassador Maloney Presents Letter of Credence to King Mswati III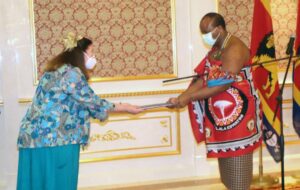 March 4, 2021
Ambassador Maloney Presents Letter of Credence to King Mswati III
Your Majesty, King Mswati III,
It is my honor to present to you my Letter of Credence as the United States Ambassador to the Kingdom of Eswatini, as well as the Letter of Recall of my predecessor. I am proud to have been chosen to serve in this important role, in this important country, and at this important time in a new U.S. administration.
I am confident that our bilateral relationship will continue to grow and strengthen. As President Biden said last month in a message marking the African Union Summit, this past year has shown us how interconnected our world is – how our fates are bound together, and how we must work together to confront the serious challenges we face.
In my 27 years as an American diplomat, I've served five presidents and worked on five continents. I have witnessed the power of citizens – women and men, young and old – and committed leaders, to bring about positive change. I've also seen how good governance, inclusivity, and respect for human rights have contributed to security, economic growth, and opportunity.
I applaud efforts underway in Eswatini in support of women and gender equality. Empowering women to participate meaningfully across society and in the economy benefits all.
Your Majesty, Eswatini has a steadfast friend and partner in the United States. Nowhere is that more evident than in the U.S. support to control the HIV/AIDS epidemic. U.S. assistance provided through the President's Emergency Plan for AIDS Relief (PEPFAR) remains the largest commitment made by any nation ever to address a single disease. The U.S. has invested more than half a billion U.S. dollars (E7.3 billion) in Eswatini, saving tens of thousands of lives, and continues to provide support through this enduring partnership. Through close collaboration and tireless efforts by your government and the PEPFAR team, Eswatini has reached the UNAIDS milestone goal of 95-95-95—an accomplishment to be proud of.
You should also be proud, as is the United States, that health system investments made through PEPFAR – in laboratory capacity, technical expertise, and more – meant that Eswatini was better prepared to respond to the COVID-19 pandemic. Since the COVID-19 pandemic began, the U.S. has provided $5.6 million (E81.9 million) in emergency assistance to Eswatini. We are also working to do more, for example by addressing Eswatini's medical oxygen shortage, better equipping health care workers to respond to the health crisis, and supporting national vaccine implementation.
COVID-19 has shown that no nation can act alone in the face of a pandemic; last month, President Biden announced that the United States would be contributing up to $4 billion (E58.5 billion) to COVAX to support the equitable distribution of vaccines. We're going to get through this together.
As we emerge from the pandemic, we also have a shared interest in economic recovery. We are already working with your government to identify opportunities for increased trade and investment.
We're also anticipating the return of Peace Corps volunteers this year. Over the course of our decades-long partnership, thousands of U.S. volunteers have served communities all over Eswatini on educational, environmental, and health projects, including HIV programming.
Since arriving, I have been impressed by the beauty of your country and the kindness and warmth of its people. I am eager to learn more about the Kingdom and its culture, history, and traditions. I look forward to continuing to strengthen the relationship between our two countries, based on a foundation of mutual respect and shared values.
Ngiyabonga.